Job Seeker Employment webpage

Quality First Impression
A great photo gives a great first impression

Select good color choices
Pick conservative clothing 
Create a plain background
Have a pleasant smile
Provide good lighting 
Fusce pellentesque suscipit.

Qualifications Summary
Strongest qualifications .

Work history at a glance
Educational background.
Skills, knowledge & abilities
Specific training or classes
Special interests & hobbies
Personal characteristics

Your Own Webpage
Summary of qualifications .

Professional photo.
Downloadable resume
Self-recorded video.
Your own URL link
Easy updates or changes
Easily available on phone or tablet
Video Presentation
Self-recorded format

Easy to create
Ability to amend
Available to employers
Showcase best features.
Explain qualifications
Speak to employers in your own words.
Mailable URL Link
Have your own URL link.

Email link to anyone
Link is private to you only.
Can be used on phone/tablet 
Use as a business card.
Handy way to connect.
Downloadable Resume
Easy to access resume

Easy to update or amend
Send to employer easily.
Match resume to specific jobs
Upload-able to websites
Change resume for specific employers.
why an employment page?
    Since the early 1950's, a resume was the best and most noticeable way to present yourself. Today, with finding great jobs so competitive, job seekers need new tools to present themselves in the most effective way.
Your EMPLOYMENT PAGE features the best of a resume with the added benefits of the virtual world. Now, you can address an employer in your own words by self-recording your own video. Make your case for why you are the best candidate. This product provides you with your own secure URL link, so you can send your page to any employer at a moments notice.
Remember, this page is yours and private to you, so be creative showing the best of YOU!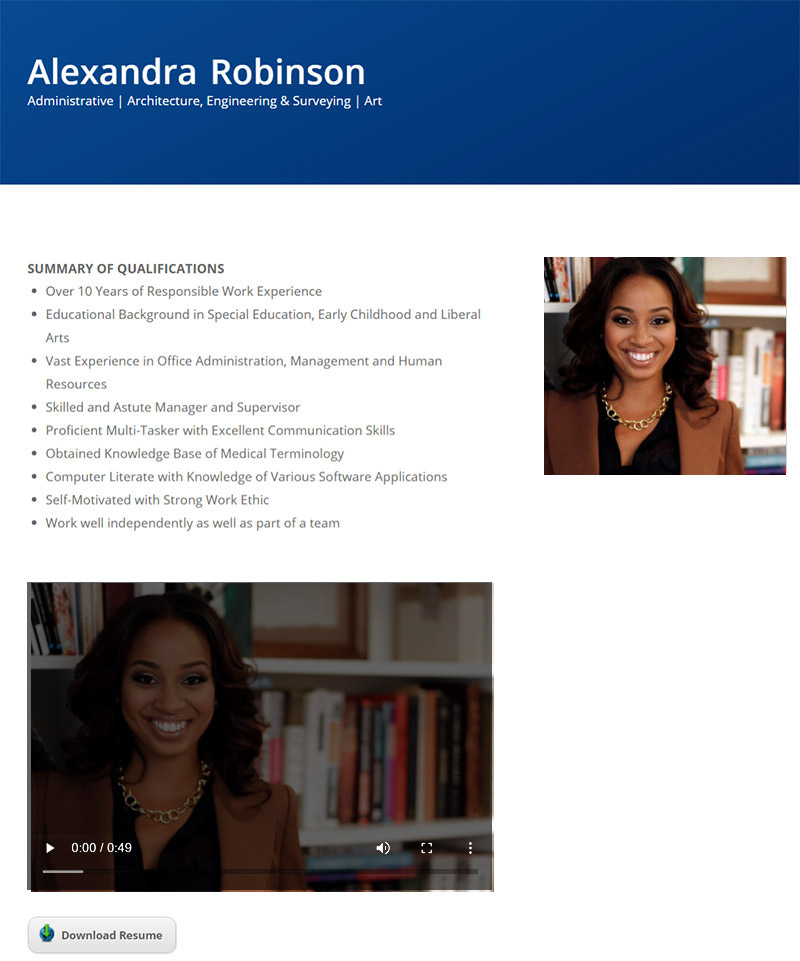 "If opportunity doesn't knock, build a door."
"A negative mind will never give you a positive life."
"Whenever you find yourself doubting how far you have to go, just remember how far you have come."